Since beginning her commission portrait painting practice in 1991, Saper has completed almost 400 commissioned portraits nationally, authored four books and filmed four DVDs on portraiture. "I love the discipline of working with clients in a shared vision of the portrait to be painted. There's a satisfying result when I can achieve beautiful skin tones, accurate likenesses, and yet still paint a lovely piece of art."

Chris's newest instructional book, Classic Portrait Painting in Oils: Keys to Mastering Diverse Skin Tones was released by North Light Books in January, 2012. She has also authored North Light Books' Painting Beautiful Skin Tones in Color and Light (2001), For Love or Money: a Business Handbook for Portrait Painters and Mostly Monochchrome (also at www.Blurb.com).

She has also been published in:


The Best of Portrait Painting
Artist's Magazine
American Artist
International Artist Magazine
Pastel Artist International
Pastel Journal
Drawing & Painting People: The Essential Guide
Strokes of Genius: The Best of Portrait Drawing
Strokes of Genius 2: The Best of Light and Shadow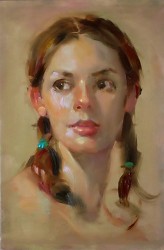 Saper's first two instructional DVDs, Painting Oil Portraits in Warm Light and Capturing the Beauty of Monochrome Oil Portraits were created in conjunction with www.artistsnetwork.tv, a division of North Light Books. Her latest DVDs, Painting Oil Portraits in Cool Light and Mixing Skin Tones were released in December 2011.

Saper's passion for color and design is a natural segue into painting the opulent still life and floral work for which she is rapidly becoming known. Saper's body of still life work has been described as lush, confident and lively.

A native of Wisconsin, she holds a Bachelor's Degree in Fine Arts and a Master's Degree in Health Care Administration. She has lived in Phoenix, AZ since 1977.

In addition to Chris's portrait commission schedule, she is an active public speaker/painting demonstrator. She has served on the Faculty of the Portrait Society of America and has taught portraiture at the Scottsdale Artist's School, the Mountain Artists' Guild in Prescott, AZ, and the Connecticut Society of Portrait Artists. Saper has exhibited at the US Senate Rotunda, The Salmagundi Club and The National Arts Club in New York City, the Bennington Center for the Arts, the Tempe Arts Center and the Insight Gallery in Fredericksburg, TX.