Size
Oil
Monochromatic Oil *
Charcoal
Head/Shoulders
12" x 16" to 18" x 22"
$8,000
$4,000
$4,000
Half figure with hands
12" x 16" to 18" x 22"
$9,500
$4,750
$4,750
Three-quarters
24" x 36" to 30" x 40"
$10,500
$5,250
$5,250
Full figure
30" x 40" to 40" x 60"
$12,000
$6,000
$6,000
Cameo Vignettes
(head/collar vignette with little to no background)

$6,000
-
-
Prices effective February 1, 2015 * Monochrome portraits: (charcoal, pencil, transparent oil)
Framing, applicable taxes and shipping expenses are in addition to the prices listed above. In most situations, travel and lodging are included; please contact Chris for details or with questions. Additional figures on the same canvas are not discounted. Animals may be added to the portrait for an additional 20-40% depending on size of the animal. Please contact Chris for information on additional sizes.

---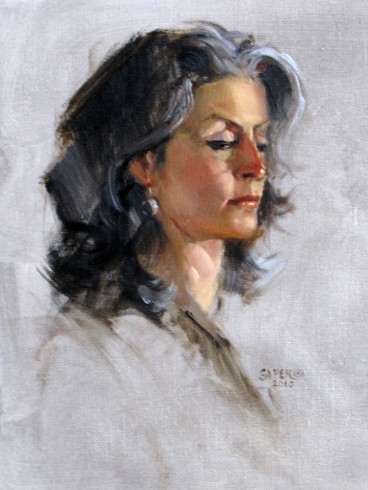 Resource Photos
Because I work from photographs, the inconvenience and often expense associated with sittings can be avoided. Whenever possible, I prefer to take the photographs, since my needs for composition and lighting are rarely met through commercial studio photography.

Photos are taken at my studio, at your home, or other settings as required; it's not unusual to shoot over 100 frames. I'll provide recommendations, but I encourage your participation as well.

Sometimes I need to work with photos you have on hand, or to assist you or your photographers in providing me the very best possible images; I can help make this process easy for you.

Selection of Resource Images
Once the resource material is selected, you'll determine the medium and the size…and therefore the price.
Review
As the painting approaches completion, I'll ask you to participate in a "proofreading review," so that any necessary adjustments to the likeness can be made to your satisfaction.
Delivery
Delivery arrangements are made in consultation with you. In general you can expect your portrait to be completed 6-8, months from the sitting date.